Welcome to Hotel Grinnell
Step into Our Boutique Hotel in Grinnell, Iowa
"Well, I did not think the girl, could be so cruel. And I'm never going back to my old school" - My Old School by Steely Dan (1973)
Notwithstanding the Steely Dan classic, Hotel Grinnell is a school you want to come back to. Our imposing, granite building was erected in 1921 to nourish the young minds of Grinnell, Iowa, as the city's junior high until closing in the late 70's. Nearly 40 years later, it has been meticulously updated and designed as a modern, eco-conscious boutique hotel, eatery and event destination. What stands today is a study in contrasts. Old meets new. Classic style meets contemporary comfort. Playful character meets a serious dedication to hospitality and service.
The hotel is upscale in style but laid back in spirit, with details large and small offering a nod to our academic history. Little things like chalkboards in all rooms and "Not Now" school ties to dangle from your door when you want to crash after a big night or cram for your big meeting. And big ideas like our Periodic Table lounge and a gymnasium-style ballroom complete with hardwood floors and the original basketball court markings. And because we think art is an essential part of a well-rounded curriculum, you'll find over 300 pieces of original artwork throughout the hotel. Not one is duplicated; after all, that would be cheating! 
If you want your hotel to surprise and delight you, staying at Hotel Grinnell is a no-brainer. Learn how smart it can be to fall asleep in a classroom.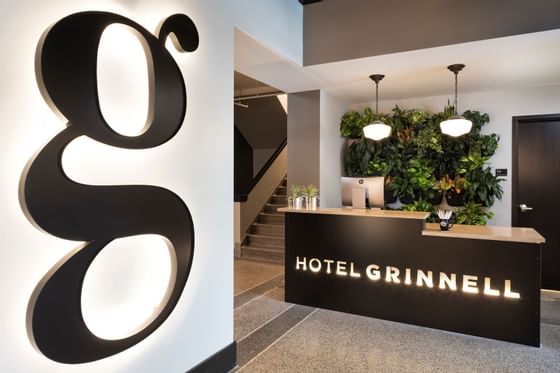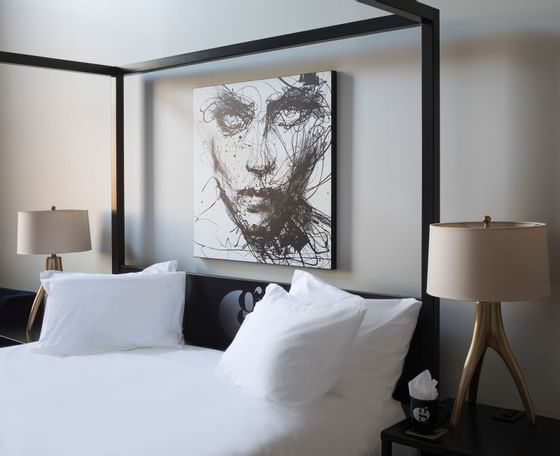 Stay Longer and Prosper
Longer stays are scientifically-proven to increase joyfulness. Stay four or more nights and save 10% off your entire stay.